Introducing Lagevrio, an oral treatment for COVID-19 in adults at risk of severe illness1
Lagevrio is a Prescription Medicine and is available as 200 mg capsules.
Lagevrio has risks and benefits. If you test positive for COVID-19, ask your doctor if Lagevrio is right for you. Use strictly as directed. If symptoms continue or you have side effects, see your doctor.
Lagevrio is free of charge for those who meet the funding requirements for oral antiviral COVID-19 treatment.3 Lagevrio can also be purchased privately, and a charge will apply.
The Lagevrio Consumer Medicine Information (CMI) is available by clicking here.
Information if you have been prescribed Lagevrio
---
Take Lagevrio exactly as your doctor tells you.1

---
Take 4 capsules of Lagevrio every 12 hours (for example, at 8 am and at 8 pm)1

---
Take Lagevrio for 5 days1
It is important that you complete the full 5 days of treatment with Lagevrio. Do not stop taking Lagevrio before you complete the full 5 days of treatment, even if you feel better.1

---
Take Lagevrio
with or without food1
If you forget to take Lagevrio
It is important that you do not miss or skip doses of this medicine.1
What to do if you miss a dose:

---
If it has been less than 10 hours since the missed dose
Take it as soon as you remember
---
If it has been more than 10 hours since the missed dose
Skip the missed dose and take your dose at the next scheduled time
---
Do not double the dose of Lagevrio to make up for the missed dose. If you are not sure what to do, call your doctor or pharmacist.1
Know the symptoms of COVID-19
Here are the common symptoms to look out for4: 
new or worsening cough
temporary loss of smell or altered sense of taste
sneezing and runny nose
sore throat
fatigue/feeling of tiredness
---
Less common symptoms of COVID-19 may include diarrhoea, headache, muscle aches, nausea, vomiting, malaise, chest pain, abdominal pain, joint pain or confusion/irritability. These almost always occur with one or more of the common symptoms.4
Know the risk factors for severe COVID-19:5
While older adults are at a greater risk of becoming severely ill from COVID-19, some medical conditions can put a person of any age at increased risk of severe COVID-19. Here are some of the risk factors to look out for. These are not the only conditions that can increase your risk for severe illness. For more information, talk to your doctor.
---

Active cancer

Morbid obesity (BMI greater than 35)

Compromised immunity
Diabetes

Chronic kidney disease
Chronic lung disease

Serious heart conditions
High blood pressure
The information on this website should be discussed with your doctor and does not replace their advice.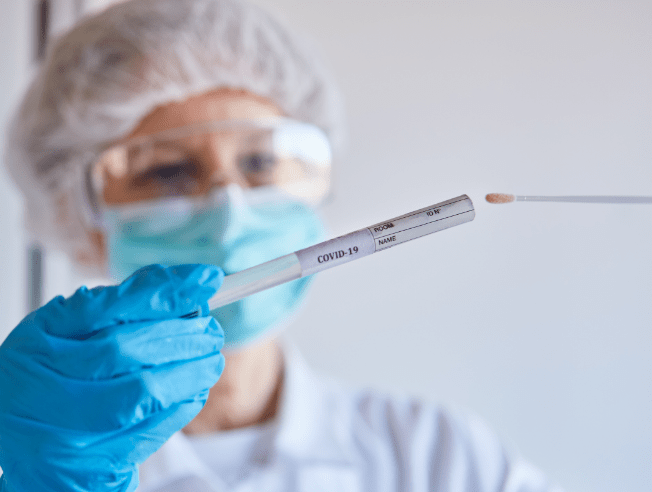 Know how to get tested for COVID-19
You can get a COVID-19 test at a range of locations, including Community Testing Centres and GP practices. You can also order rapid antigen tests (RATs) online.
---
---